Unleash hyperscale with disaggregation
Purpose-built for cloud infrastructure, Lightbits separates compute and storage allowing them to scale independently. Transition smoothly from inefficient Direct-Attached SSDs (DAS) to a low-latency shared pool of NVMe SSDs.
Separation of storage from compute - without all the drama
Unlike other NVMe over Fabrics approaches, Lightbits' NVMe/TCP separates storage and compute without touching the network infrastructure or data center clients. The application teams won't even notice the transition.
NVMe/TCP with direct-attached SSD performance
Finally a solution that keeps up with cutting edge flash performance. Delivering the parallelism of NVME over TCP, Lightbits' technology provides up to a 50% reduction in tail-latency at the same IOPS of direct-attached NVMe SSDs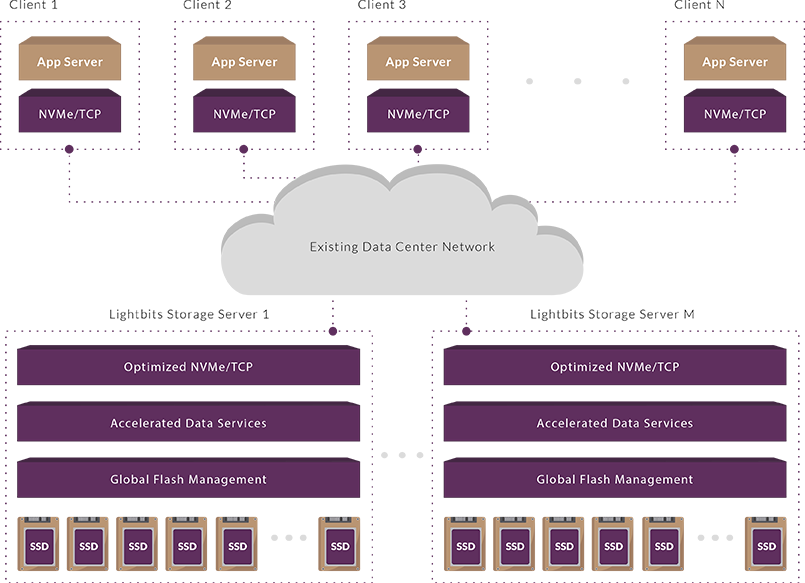 Network untouched
Standard TCP/IP Network (no RDMA required)
Network untouched
Standard TCP/IP Network (no RDMA required)
Flash Disaggregation with NVMe/TCP
Lightbits' team was a key contributor to the NVMe standard and among the originators of NVMe over Fabric. Now Lightbits leads the crafting of the NVMe/TCP standard. As the trailblazers, its solution is already successfully tested in industry-leading cloud data-centers.
Download Whitepaper
See the Flash Memory Summit 2018 Demo
Watch video
The Un-Storage Solution
No more costly black boxes. Lightbits' software turns a bunch of white box servers into a powerhouse data-center, without compromising robustness or peace of mind. Now you decide which SSD and server hardware to use from your preferred supplier.
Allow applications to go wild with better tail latency than local SSDs
Scale to millions of IOPS and thousands of connections with less than 1 ms tail latency. Now your applications can grow exponentially with consistently better user experience.
"Disaggregated storage is becoming a major trend in hyperscale infrastructure, which provides fungibility and agility. With NVMe getting mainstream, running NVMe over TCP is most frictionless approach from infrastructure perspective, without compromising performance."
Manoj Wadekar | Director of Engineering at eBay

"NVMe over Fabrics enables the disaggregation of compute and storage on a common network. Lightbits' innovative NVMe Fabrics over TCP solution enables entire data centers to achieve direct-attached SSD performance on standard networks. The Lightbits approach is a breakthrough in simplifying SSD storage deployment for developers and administrators."
Mike Shapiro, co-founder DSSD | co-author of NVMe over Fabrics

"With Lightbits technology, Packet can provide network attached NVMe devices with 'as good or better' performance characteristics as local NVMe. Doing this over our existing Ethernet-based network with standard 10/25G network cards is a game changer versus other solutions in the market."
Zachary Smith | Co-Founder & CEO at Packet
x
I'd like to see your no-drama demo
x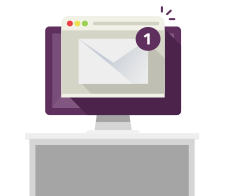 Thank you, we'll be right back!