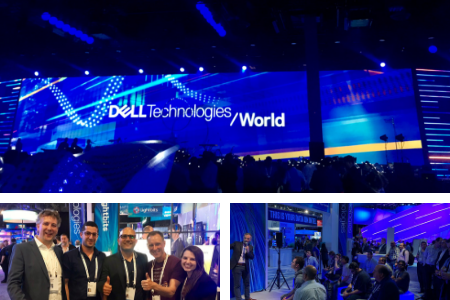 Dell Technologies World: Growth, Efficiency, & Disaggregation
This years Dell Technologies World was bigger and better than ever as 15,000 technologists, thought leaders, and executives from 122 different countries and 400 Dell partner organizations 1  flocked to Las Vegas seeking "real transformation."
In theory, the topic resonates like another ubiquitous buzzword, but in reality it's a key initiative for today's enterprise executives. According to Gartner, 67% of today's business leaders say that their company will no longer be competitive if it can't be significantly more digital by 2020."2
Storage is Key to Next Generation Infrastructure
"Although it is rarely the center of the story, storage is a key infrastructure element" – Avigdor Willenz, Founder and Chairman of the Lightbits Labs Board of Directors
For CIOs, digital transformation manifests as architecting solutions to support resource intensive applications including deep learning, artificial intelligence, machine learning, internet of things and more.
For such applications, "accessing massive amounts of data with low latency is a priority," said Roger Peene, vice president of product planning and strategy for Micron's Storage Business Unit. "Solutions like Lightbits Labs' SuperSSD can enable customers to access large data sets with rich data services in a low-latency, disaggregated infrastructure solution." 3
At the conference, our team showcased SuperSSD and unveiled our Dell Technologies OEM solution. Here's a breakdown of the demonstration and key takeaways from the event.
How to Enable Real Disaggregation
As a plug and play NVMe/TCP appliance, Lightbits SuperSSD virtualizes and manages a large pool of NVMe SSDs, to provide simplicity, performance, fault tolerance and cost efficiencies. Also available, a storage server solution that integrates Dell OEM PowerEdge R740XD NVME with Lightbits Labs LightOS Software Defined Storage Solution and LightField Hardware Acceleration.
Both solutions are designed for applications like high-speed databases, high performance analytics and customer engagement applications to deliver optimal user experiences, with latencies equivalent or better then direct-attached storage.
To learn more, check out recent news from Dell Technologies World and these resources.
References